About MinDCet
Leveraging extensive expertise in high-voltage and power ASIC design, we deliver tailored integrated circuits. Our solutions encompass the full development spectrum, working closely with our clients from conceptualization through to the low-to-medium volume production stage, backed by in-house production testing facilities and pre-production testing capabilities. The high quality development standards are affirmed in MinDCet's ISO9001 certification.

Core development activities are focused on wide-bandgap gate drivers (GaN and SiC), high-voltage (>650V), radiation-hardened and high-temperature ASICs for power control, sensing and motor driving applications.

MinDCet Measurement Systems develops and produces patented measurement systems for analyzing losses in inductors (MADMIX) and capacitors (MADCAP). These measurement systems are adding value to renowned R&D facilities and universities around the world.
A Message from the Founders

The Beginning
In the summer of 2010 Mike Wens and Jef Thoné, both pursuing their PhD at ESAT-MICAS (KU Leuven), joined forces and started a venture in power IC design. The spin-off MinDCet was officially launched on Oct 4th 2011, at the time with a single employee.
One of the first milestones was the installation of the ISO9001 quality system, as well as a funded research project on inductor loss measurement called MADMIX, which eventually led to MinDCet's first patent in 2012.
Space and Offices

Our first aerospace high-temperature IC design required the expansion of our offices and measurement lab and the installation of a thermostreamer unit for ambient temperature control of our characterization setups.
In 2014 MinDCet designed their first custom automotive ASIC, a brushless DC motor driver, currently running in volume production. That same year, in need of understanding passive components in their real-life environment, we invented and patented the MADCAP capacitor measurement system.
In 2015 we developed our first series of Rad-Hard ASICs for space applications, pushing the boundaries of technology, supported by internally developed scripts to enable circuit simulation of radiation effects.
Measuring and Measurement Systems
In need of more advanced and automated characterization, we developed a semi-automated characterization scripting language Lab Commander in 2016, allowing in-depth and repeatable characterization of our custom ASICs. That same year, pushing the boundaries of IC technology was awarded by XFAB with the X-CITE award.
In 2017, further growth of the MinDCet team led us to move to a new building. That same year we developed several ASICs for application in ATE equipment.
In 2018 we further improved the measurement resolution of the MADMIX system, leading to the development of the High-Accuracy MADMIX.
Today
In the fall of 2019 we commissioned a new large measurement lab, cleanroom and installed an automated production tester and tri-temperature handler.
The MADCAP capacitor measurement system is developed into a product, and we will launch the production of our MDC901 GaN gate driver.
Today, the MinDCet team has grown to become world-renowned specialists in analog-mixed mode and high-voltage IC design, with a focus on power electronics. The combination of state-of-the-art IC design, patented measurement equipment and ongoing new developments makes MinDCet what it is today.

The Future
The MinDCet team strengthens on a daily base with field experience / active R&D and customers to serve. It is our job to support and grow our talented team, so we can deliver the next-generation ASICs to our customers - and support our mission for a sustainable future.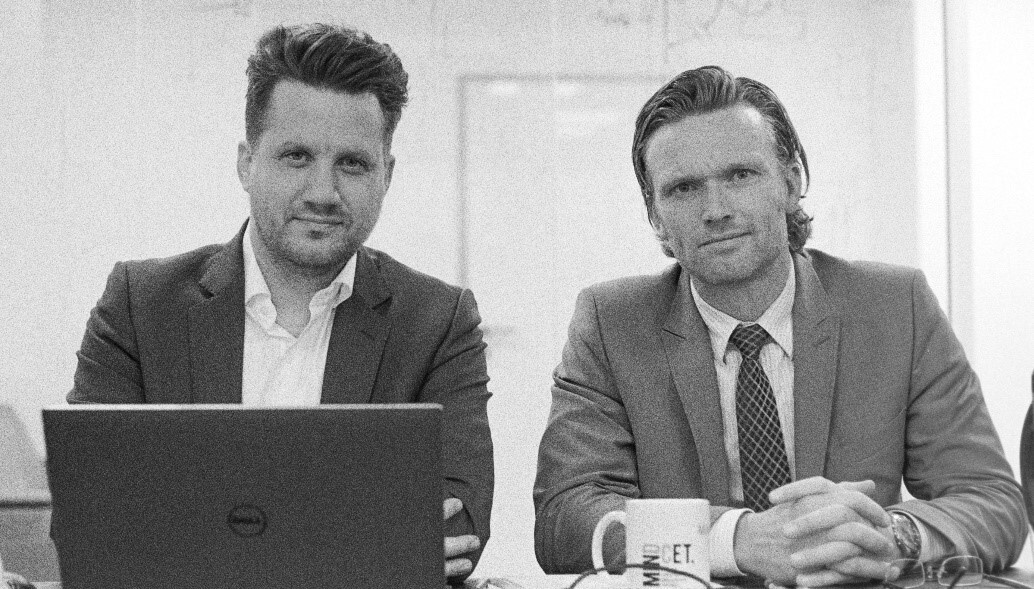 The founders: Dr. ing. Jef Thoné (CTO) and Dr. ir. ing. Mike Wens (CEO)
Research and Development
We have always put time, effort and financial means into R&D. Measurement systems to support our IC design, High-Voltage IC design and measurement methods, MAG-hard IC design methods to support ICs in MRI scanners, various Monolithic GaN-IC developments are some of the topics we touched and/or are actively involved in. MinDCet is a technology driven spearhead and this continues to be our mission.
An illustration of recent public R&D projects involving a key role for MinDCet:
DISPERSE : development of MRI "MAG-hard" compatible electronics. A chipset for capacitive power and data transfer was developed and demonstrated in a 1.5T environment.
SloGan : a monolithic GaN power stage and predriver was designed, produced and measured in IMEC's proprietary GaN-on-SOI technology.
Intelligent Reliability 4.0 : in the frame of this ECSEL project, aiming to increase device reliability of electronic components, MinDCet will be designing specific building blocks in IMEC's GaN-on-SOI technology

Clients