High-Voltage MADMIX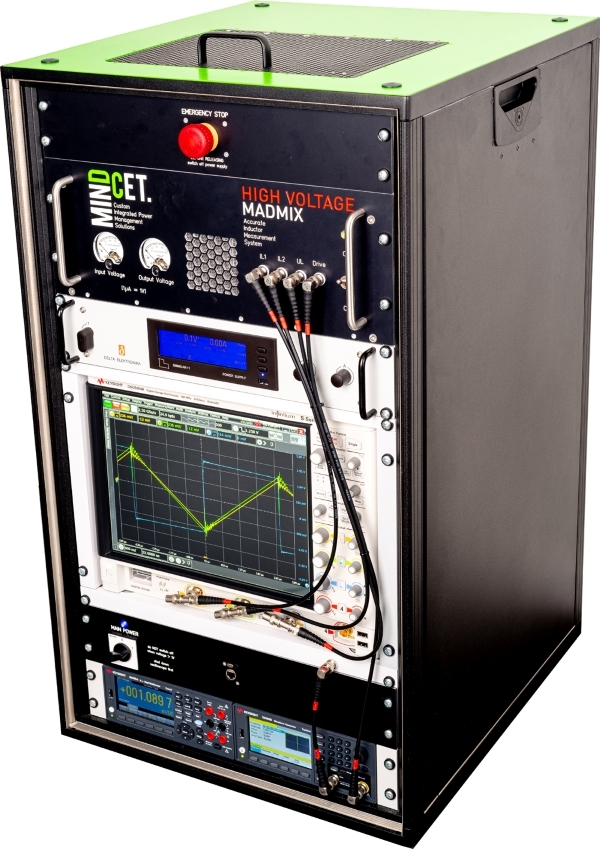 High Voltage Inductor Measurement System
The High-Voltage MADMIX system enables characterization of inductors and transformers for high voltage applications such AC-DC converters, solar inverters, EV traction drivers and more. Real-life AC-losses are measured accurately without tedious in-application testing. Inductor development, material selection and sizing is significantly accelerated for a more efficient design process. At high voltages, the core breakdown effect is crucial to understand and mitigate, which High-Voltage MADMIX detects at an early stage.

Key Specifications
Square wave voltage up to 1000V (peak-to-peak)
Triangular wave current up to 60A (peak-to-peak)
Variable frequency from 10kHz to 2MHz
Duty-cycle range 50-95%
Ambient temperature range -65 to +225°C
Features
AC-loss, core/winding-loss measurement
B-H curve extraction (without additional winding)
Core-breakdown measurement
Saturation measurement
Coupled-inductor measurement
Applications
Development of inductors & transformers
Research of magnetic materials
Characterization of inductors
Characterization of magnetic materials (for inductors, BLDC motors…)
SPICE model generation for SMPS design
Inductor comparison and benchmarking
Use Case
Inductor manufacturers
Research institutes
Power-supply design houses
Ferrite / magnetic material manufacturers
BLDC motor manufacturers (EV, power tools)
Subscribe here to receive this file via e-mail
In order to receive/download this file, you need to leave us your e-mailaddress. Afterwards we will send you an e-mail with a downloadlink.